Clear Braces
Clear braces from SmileTown Orthodontics Braces & Invisalign blend easily with natural teeth and address cosmetic concerns while straightening your child's or teen's smile. Typically non-staining, they are made of clear ceramic, porcelain or plastic material.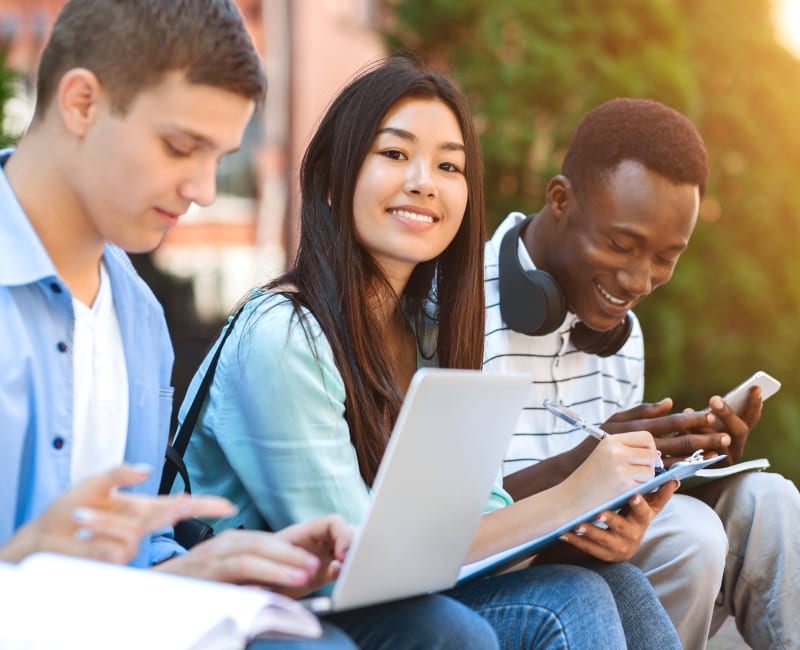 What are clear braces?
Made of white ceramic material, clear braces are a great option for children and teens who need to have their teeth straightened but have aesthetic concerns about wearing metal braces.
You may be interested to learn that these braces are made of ceramic. Though they are not transparent, they appear clear on teeth. 
Your teen may also be able to choose a white arch wire to complete the look. Wires and elastics are also often made from a tooth-coloured material, resulting in braces that blend more naturally with their existing teeth.  
As long as patients continue to practice oral hygiene, care for their teeth and brush and floss daily, there should not be any issues. Plus, our orthodontists at SmileTown Orthodontics Braces & Invisalign are always here to answer any questions or address concerns your child or teen may have during treatment.
Why choose clear braces?
Clear braces can help improve the appearance of your child's or teen's smile, without the tell-tale metal wires and brackets. They are a reliable way to correct misalignment and other orthodontic issues.
How do clear braces work?
With recent advances in orthodontic technology, we can help patients improve the appearance and function of their smile without the tell-tale metal brackets. Clear braces are an inconspicuous alternative to metal braces and are typically non-staining.
While clear braces are still a reliable way to correct misalignment and other orthodontic issues, they also address the aesthetic concerns of children and teens who may be worried about how their smile will look with regular braces. 
Keep in mind that clear braces consist of composite materials, which are not as strong as metal braces.
Treatment time with clear braces may also be longer, as force will need to be applied more slowly and gradually to ensure the clear brackets remain strong enough to shift your child's teeth into their correct positions.
Are clear braces right for your child or teen?
Clear braces are a great alternative if your child or teen is not a candidate for Invisalign. These braces are made of ceramic and they blend in with the colour of their teeth - great if like many wearers of braces, they are concerned about appearance over the months or years they'll need to wear them. 
Clear braces are fixed (not removable). Your child or teen won't have to remember to put them back in after brushing, flossing, eating or playing sports. 
Many patients wear clear braces only on their most visible teeth (usually upper teeth) to save costs, as clear braces sometimes cost more than metal braces, which would be worn on the rest of the teeth that need correction.
Our orthodontists can help you and your child or teen decide if clear braces are right for them, and address any questions or concerns you may have.